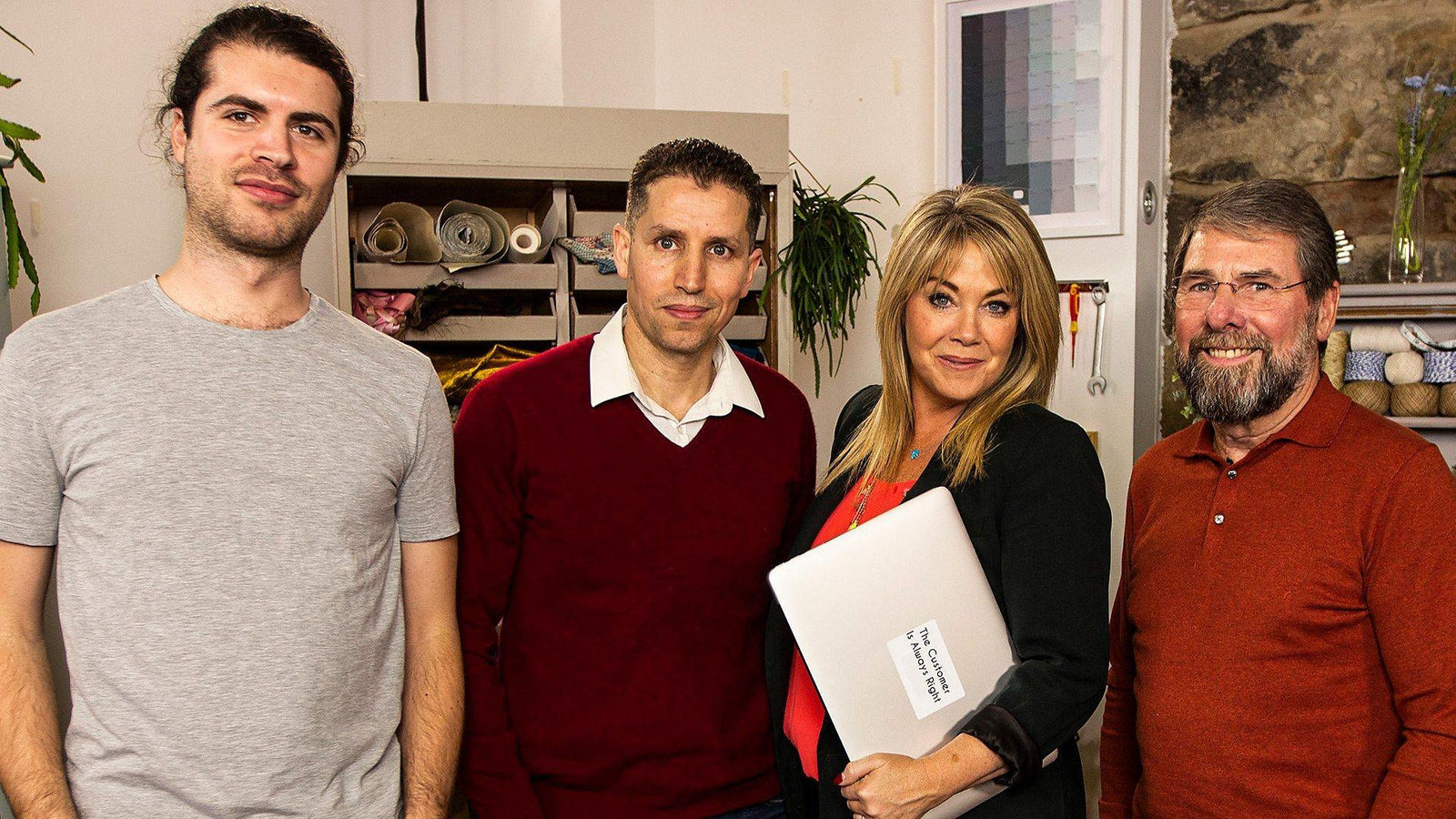 In late 2019 we got a cold email, via our website, from Firecracker Films enquiring about including FixIts in an upcoming TV show they were making for the BBC, "the customer is always right". They had found us via our kickstarter campaign and thought we'd be a good fit! 
We responded immediately! This was a great opportunity and timing for us as we had just started to refocus the business and strategy. Co-Founder Forrest had also made the decision to leave his previous job in order to focus solely on the growth of FixIts in the new year.
A couple of short emails and a phone call later with Firecracker and we were being pitched to the producers of the show to be one of the featured small businesses. 
The show takes 3 UK entrepreneurs and their products, sends them (with absolutely no information) to real consumers around the UK who then film themselves opening and reacting to the product. We in turn then watch and react to their reactions in a studio environment. The customers also score our products and one of us is awarded with "the customer is always right" trophy.
There was a nerve wracking week of radio silence after our phone call with Firecracker before we got the go ahead to be part of this show, from the BBC themselves.
From the conformation things moved extremely fast. Within the week we were sending off samples, documents, images and details about our studio in London. They had decided they would film the backstory to our business within 4 weeks and wanted to make sure both Chris and Forrest could be there. So we were discussing the dates we could do this.
Matching our calendars with the production team's proved to be tougher than anticipated. They were doing a loop around the UK from their studios in Glasgow to film 2 backstories a day over a week. 
From there the days went pretty fast and before we knew it we were filming the backstory in the place where FixIts had been born, in the Chris Lefteri Design studio. Based in the stunning new brutalist building, the Brunswick centre.
We had an early morning to lunch filming slot and were blessed with a lovely early morning sun. We met with director Drew, his team and welcomed them into our studio to film where we had prepared a selection of samples that showed the process that brought FixIts to life. 
We filmed for around 5 hours, running slightly over schedule as director Drew couldn't stop filming the exterior shots of the Brunswick centre (can't blame him though, it really is beautiful). 
At the same time as we were filming the backstory, the customers were just finishing up filming their reviews of our product. Which meant it was time to schedule the final shoot at the studio in Glasgow. 
Unfortunately Chris had prior commitments with his studio on the dates that we could film, so Forrest made the journey up from Euston to Glasgow on the train, first time he'd been there too. 
Arriving the night before filming there was a little bit of time to explore the dark winter streets before settling in for the night before the early start for filming the next day. 
Awake at 6:30, before the alarm even went off, showered, changed and packed into adequately unbranded clothing before heading for a quick breakfast (I really wish I had eaten more in hindsight) before waiting outside the hotel for the cab. 
The studio had booked three separate cabs for us, but hadn't really been very clear about this, so all three of us going for the filming in the studio got in the same cab when we weren't supposed to. In any case we arrived and immediately were mic'd up, given a film crew and off we went. 
First a bit of establishing shots, walking up and down stairs kinda thing, followed by setting up in the studio. Powder on and we were introduced to our host, Lucy Alexander of homes under the hammer fame. 
But just as we were about to get filming the fire alarm went off and disrupted things for a while. Sending us all straight out into the rain outside until the fire brigade had arrived and confirmed it was just dust from some works going on in the building. 
Back to the studio and we started filming segments followed by breaks to film individual reactions. Rinse and repeat until we finally finish at 3 (2 hours later than planned) and to a much needed selection of sandwiches. I won't spoil who won the show, you'll have to watch that to find out. But it was never about winning, but about being part of it and helping FixIts reach a wider audience. 
If you're reading this after it's aired you can always watch the show on BBC iPlayer by clicking on this link.